Formula 1
Finnish technological newsite Digitoday.fi (in Finnish) reports that the result of Kimi Räikkönen winning the drivers championship in Formula 1 drove up Internet traffic considerably in Finland. The Finnish F1 broadcaster MTV3 has got license to broadcast the F1 races on the Internet — for a fee naturally — and apparently the ups and downs of the season's last F1 race in Brazil with three drivers contenting for the championship crown resulted in a traffic surge on the net.
The F1 TV broadcasts in Finland have been limited to a pay-per-view live race broadcast or a later shown summary of the race on afree-to-air channel, with both channels owned by MTV3. Apparently, the season showdown was enough interesting for people to get the F1 streaming broadcasts. This eventually led to a 19.7 Gbps traffic and a new Finnish Internet traffic record.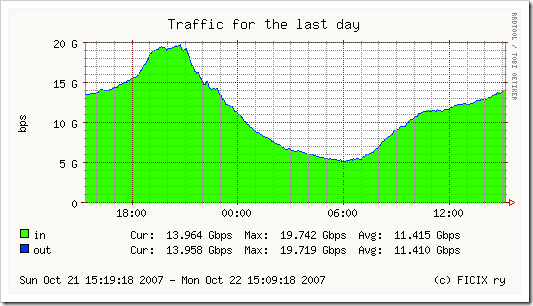 The chairman of Ficix, an organization representing the Finnish IT communications companies, said that the record traffic wasn't a cause for any concern for the network infrastructure in Finland. However, he thought that this serves as a warning to most communication companies that video streaming will be requiring more transfer capacity in the very near future.
MTV3 reported (in Finnish) that they had a record large viewer count on the taped summary broadcast, the pay-per-view live broadcast and also the Internet broadcast. The taped broadcast gathered at most 947 000 viewers, the pay-per-view live broadcast at most 300 000 and the Internet broadcast gathered 12 000 viewers at most. (So, that's pretty much the whole of Finland where the population count is around 5 million.

)
Seems like providing F1 broadcasts over the net can be a lucrative deal, not forgetting the pay-per-view channel which started operations this year. However, it should be noted that the sole mobile network operator providing F1 streamed to mobile phones, Telia Sonera, hasn't reported any viewing figures yet on how the last GP weekend went.
Remains to see if this broadcasting concept will be pushed into other markets (i.e. countries) in the very near future…
And by that I'm referring to yesterday's Formula 1 Grand Prix in Montreal. I haven't seen this much action for a long time:
This was action with nothing like it and after my pulse had settled, I realized it was long time since F1 was that full of action. :) Last time was back last year when there were Michelin tyres that enabled cars to overtake, which is something that the current Bridgestone tyres seem actively disable in F1 cars.
Updated: Davidson most likely hit during the race the same groundhog that R. Schumacher almost hit during practice, as reported by Pitpass.
---
February 2017
M
T
W
T
F
S
S
« Mar
1
2
3
4
5
6
7
8
9
10
11
12
13
14
15
16
17
18
19
20
21
22
23
24
25
26
27
28
Categories